SWEDISH MEATBALLS & RICE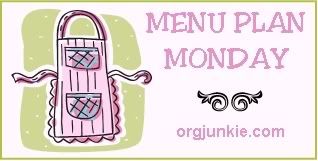 This week I am wanting my meals to be made quick, fast and in a hurry. I have started school back. Even though I scaled down on the classes that I am taking this semester, (only 3 instead of 4), I am still feeling the pressure of trying to keep up. Plus, I have both of my oldest boys in school and one at home who refuses to let mommy get anything done without a plethora of whining and running over the back of my feet in his walker. Gotta love his persistence. So here goes my menu for the week along with a picture recipe for
Swedish Meatballs & Rice
.
Monday: Tequila Chicken w/ corn and green beans.
Tuesday: Swedish Meatballs & Rice w/ a side salad.
Wednesday: Taco Bar
Thursday: Chicken Fajitas w/ a Mexican side salad.
Friday: Fried Porkchops w/ baked potato bar.
Saturday: BBQ Chicken Sandwich w/ baked french fries.
Sunday: Homemade Chicken Fingers w/ cheesy noodles.
SWEDISH MEATBALLS & RICE
INGREDIENTS & PRICE
– a bag of frozen Swedish meatballs – $6.38
– a box of instant rice – $1.29
– two packets of gravy – $1.00
TOTAL: $8.67
Optional Ingredients:
– diced onions
– sliced mushrooms
(I didn't include these in my cooking this time, because right now I am having a love/hate relationship with onions and mushrooms.)
TOTAL COOK TIME: 22 minutes
Here are the three ingredients that I used:
DIRECTIONS:
Follow the directions on the bag of meatballs. My meatballs were already thawed, so I preheated my oven to 350 degrees and placed the meatballs in a shallow baking dish. They went straight into the oven for 15-18 minutes.
While the meatballs are cooking, you can start making your gravy. Follow the directions on the gravy packet. If you are going to add mushrooms and onions into this dish, go ahead and add them in with the gravy. That way, your onions will be soft by the time the meatballs are done. I like to add a little bit more seasoning to my gravy, so here is what I used:
Once the gravy is cooking, start a pot of boiling water for the rice. Add a little bit of salt into the pot, and place the rice in there once the water gets to rolling boil. I use instant rice. I like my rice done in 10 minutes.
In 15 minutes, take the meatballs out of the oven, cut off the gravy and the rice. There you go, your dinner is ready to go.
Start out with a layer of rice: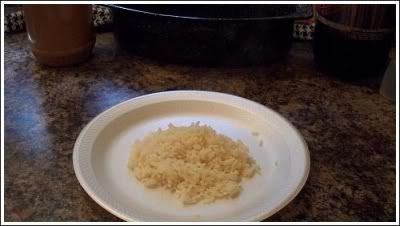 Add some meatballs on top of that:
Then pour gravy over everything: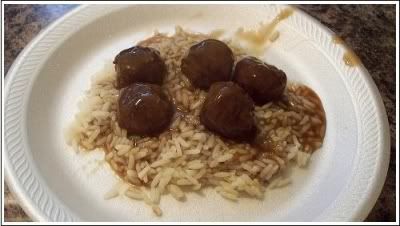 Make a side salad to go with this easy dinner, and there you have it. Something delicious, and nutritious, in under 30 minutes.
Total for dinner and salad? $10.67